Native and Immigrant voices are heard during Intercultural Leadership Institute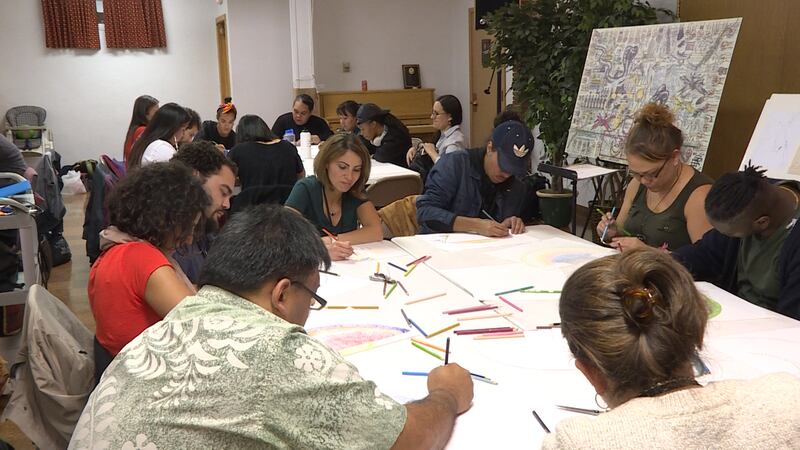 Published: Sep. 17, 2017 at 7:33 PM MDT
Beliefs, customs, arts, values ... are some of the many things that define a culture.
But what happens when several cultures group together to bond and develop leadership?
That's exactly what four arts organizations are working to find out.
Vicky Takamine, Kumu Hula and director of PA'I foundation says, "All of us are diverse, different cultures, and the four of us leaders have been working together for ever ten years in order to find where's the next leaders of those different movements."
This is stop number two on the journey of thirty individuals hand selected to participate in the first ever Intercultural Leadership Institute.
Takamine says, "We sent out an application nationwide for artists who are at the intersection of arts and social justice issues in their own communities."
Members of Alternative ROOTS, First People's Fund, the National Association of Latino Arts and Culture and PA'I foundation joined together to immerse themselves in each other's culture.
Bobby LeFebre, writer/ performer/ cultural worker says, "This gives us an opportunity to coalesce around similar histories, similar."
The group made their first stop in Jackson, Mississippi in the back yard of Alternative ROOTS and this week they are in Lakota Country.
Takamine says, "There's nothing like that first hand experience and we all go changed we leave her having a different perspective and having a deeper appreciation and understanding of what it is to come from an other cultures."
And their goal is to not only learn but create a network of the leader artists.
Lefebre says, "We have to realize that we are actually not a minority group, all of us together, we form a very strong network of professionals, of leaders, and in the current climate we are living in this country, its important for people of color in leadership to step up and utilize this platform we have available to us to begin to shift the paradigms that have excluded us for so long."
But they are finding they are more deeply connected than a simple network.
LeFebre says, "Its been a really really great experience to get back to those ways and find out how tightly we all are related."