Moonshine Brings Generations Together :"Along the Way" in Kadoka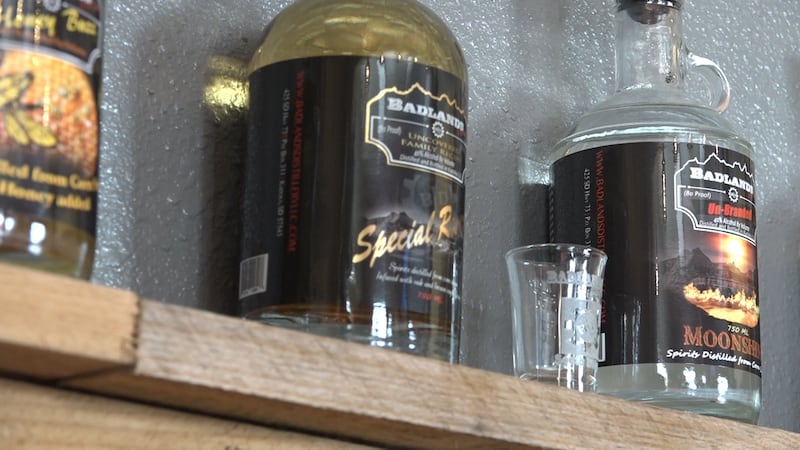 Published: Dec. 20, 2016 at 10:31 PM MST
What do Legacy, History, and Liquor have to do with a new business in Kadoka?
When they're all stirred together: they're bridging one generation to another, and the past to the present.
A small building, a small town, and a big dream: Along the Way, just off I-90 in Kadoka, South Dakota.
In the 1920's and early 30's, "Prohibition" outlawed making and selling alcohol, all across the U.S.
But with folks still clamoring for alcohol, illegal homemade production--of an alcohol known as moonshine, became all the rage.
Including right here in South Dakota.
The Herber family has deep ranching roots in the nearby Weta Valley and details of their family's part in bootlegging in an old family journal.
Shaley Herber, Sales and Marketing Director, for Badlands Distillery LLC, reads from the journal, "It reads, besides farming, the boys also dabbled in other businesses for a time. A few of them were moonshiners. Joe was the ringleader."
Shaley's Dad, Jim Herber, Co-Owner of Badlands Distillery reads from the journal, "Joe also sold to politicians at the state capitol in Pierre. There, the delivery was made at the Lake Entrance of a basement tunnel."
One thing led to another, and January 1st of this year, Badlands Distillery was born; based on the bootlegging story of Joe Herber's moonshine.
The tasting room is tastefully created with old time tractor seats topping logs as barstools, and the flavor of stepping back in time.
Shaley reads from the family journal, "He had flavored his carefully distilled liquor with brown sugar syrup. After the brew was tasted, tested, and beautifully colored, it was poured into casts and kegs that were charred on the inside."
Jim Herber, and his friend Mark Eschenbacher are co-owners.
It's a small crew, basically just Jim's daughter Shaley, and Mark's wife Sandy.
Turns out their were 5 Herber brothers involved in the bootlegging biz back in the day. And the writer of this section of the journal may have been biased, because she was their sister, Gertrude.
Shaley reads, "Joe soon had a reputation for having the tastiest, most healthful, and smoothest recipe in all of South Dakota territory."
That old moonshine, re-created to the best of their ability, is now sold as "Special Reserve".
Eventually the bootlegging Herber brothers business did get busted. Shaley Herber, age 22, would be their Great, Great Niece. Her father Jim would be their Great Nephew.
And these new generations would like to see their business take off.
Shaley (Clip 23 at :28) "Something that our great great uncle Joe could be especially proud of. I'm sure back during the Prohibition Era, when he was sitting there in jail he probably couldn't hardly imagine that his family would someday continue on this story and his legacy."
As for the present operation, they've added five new flavors. But for now they're still a small artisan distillery. Co-owner Mark Eschenbacher is the Distiller and says he's training Shaley to be a distiller too.
Mark Eschenbacher says, "We've probably sold about 35-hundred bottles since January."
Steve Long says, "You may notice there's a rattlesnake on the label of the Badlands Venom, and there's a pretty cool story to go along with that."
That snake is also available on T-shirts...As the story goes, one day in the summer of 2015 the rattler wandered onto the sidewalk leading up to the front porch of Mark and Sandy's home, scaring a bunch of folks who were there.
Mark says, "They're all running and screaming, so I killed the rattlesnake and then they thought, hey wouldn't that look cool around one of our liquor bottles."
He says he was chosen to wrap the rattler around a liquor bottle for pictures to use for inspiration for their labels.
Mark says, "And what do they make? venom so that's how we locked onto that."
Co-owner Jim Herber spends most of his time out at the ranch. One of his jobs is growing the corn they need.
Shaley says, "Dad cuts it down out there, grinds it up for us, brings it into the distillery and we that for some of our recipes like Badlands Venom for example."
And over in this still, there's mash cooking. When Jim lifts the cover we can see what this part of the process looks like. They have two labelers one is a hand cranking labeler, the other an electrical one.
You could say the moonshine business is back, linking generations, and inspiring a fresh family pride.
Jim says, "Just in knowing that my great uncles did this and we're able to start it up again basically, means quite a bit, and hopefully my kids will carry it on also."
Shaley says "I would say just like Great Great Uncle Joe's recipe, we offer some of the smoothest, sweetest, and most healthful whiskey in all of South Dakota Territory"
Prohibition days are over, they're no longer dumping barrels of whiskey, and moonshine can be made and sold in the light of day including here in Kadoka.
They say they plan to add a few more flavors, including chocolate.
If you've met someone cool "Along the Way", please call us, or e-mail me to let me know at Stevel@blackhillsfox.com.