Governor Daugaard and Senator Thune make special appearance in Belle Fourche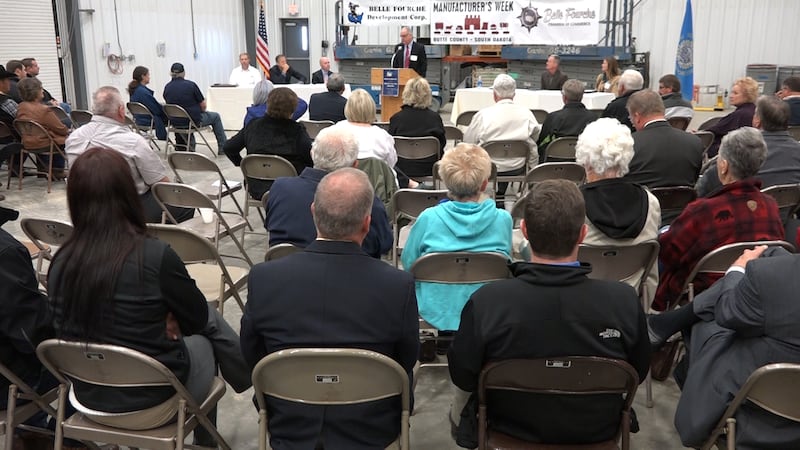 Published: Oct. 6, 2016 at 6:00 PM MDT
Belle Fourche and the State of South Dakota are making an effort to grow by dedicating land for economic development and improving rail access.
A new industrial and rail park, located near Permain Tank and Manufacturing had its grand opening Thursday morning. The new park has approximately 79 acres of land available for businesses to purchase. Also, the rail is getting improvements for quicker transportation. In attendance were Governor Dennis Daugaard and Senator John Thune. Both agree this means good things not only for Belle Fourche, but for South Dakota as a whole.
South Dakota Governor Dennis Daugaard says, "Across the United States, over the last several decades, we've been losing manufacturing jobs. Conversely, here in South Dakota, we've been adding manufacturing jobs, and it's now about 10% of our workforce. Why is that? Low costs, low taxes, hard-working people, and acceptance of automation. But one other important ingredient is shipping. We produce more than we can consume here in South Dakota. We need shipping, and rail provides that economical means to ship things like tanks or other kinds of manufactured goods and agricultural products too."
South Dakota Senator John Thune says, "I'm a big believer in transportation. Transportation makes a lot of things happen, and when you can invest in transportation infrastructure, it opens up a lot of opportunities for economic growth and development and jobs, and that's really what this is all about."
Both commercial and industrial real estate is now for sale in the rail park. You can find out more information by calling the Belle Fourche Economic Development office at 605-892-5065.