Air Force: Ellsworth looking good to be home for B-21 bombers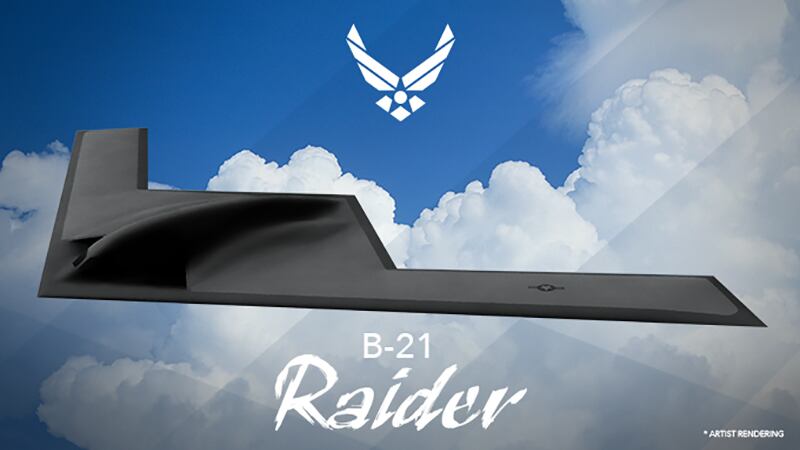 Published: May. 2, 2018 at 10:15 AM MDT
The Air Force officially tags Ellsworth as a base for the new B-21 bomber, according to a release from Senator John Thune's office.
"Ellsworth remains well-positioned for the
, especially with close access to the expanded Powder River Training Complex, which will be essential for meeting the training needs of these fifth generation aircraft," Thune said.
is one of three reasonable alternatives for B-21 bases across the country. The other two are Dyess AFB, Texas (home to another B-1 bomber wing); and Whiteman AFB, Mo., where the Air Force's only unit of B-2 bombers is based.
The Air Force's final decision will be sometime in 2019, following environmental and regulatory processes.
The Air Force expects to have a fleet of 100 or more B-21 bombers on three main operational bases beginning in the mid-2020s, replacing both the B-1 and B-2 bombers. The overall fleet is expected to grow from 157 bombers to at least 175 of B-21 and B-52 aircraft. The B-52 is expected to continue in service until 2050.
The B-21s will start coming into service in the mid-2020s but not expected to be on bases until the 2030s. "So, for the next 10 to 20 years, we will train and successfully launch B-1 sorties as we always have done," an Ellsworth AFB release stated.
"Today's great news confirms the Air Force's intent to base B-21s at Ellsworth," said Thune. "The B-1s are a proven workhorse, but evolving threats will require a modernized bomber force."
Getting the next-generation bomber solidifies Ellsworth's future for some time. Twice in the past (1995 and 2005) Ellsworth was targeted for closure. The base was officially on the list in 2005 until the final Base Realignment and Closure Committee hearing when it was removed.