Milder today with less wind.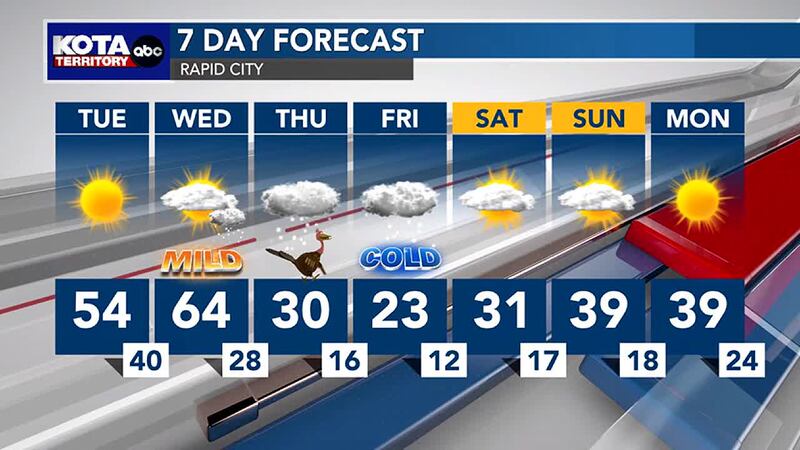 Published: Nov. 21, 2023 at 5:23 AM MST
RAPID CITY, S.D. (KOTA) - Today will be slightly warmer as much of the area will rise into the 50s for an afternoon high, though some spots in the hills will remain in the 40s. Sunny skies are expected. A few high clouds will move into the area on Wednesday. It will be much warmer as many are expected to reach the 60s! Others will be in the 50s.
Clouds will move in from the north Wednesday afternoon and overnight as a storm system moves into the area. Snow will be falling for some by the morning hours of Thanksgiving and will continue into the afternoon. This will create travel impacts for much of western South Dakota and northeast Wyoming.
Snow totals are still a little too early to call right now, but the highest amounts will likely be across Wyoming. Many there will see 4″ of snowfall or more, with some spots possibly exceeding 6″. There is still uncertainty across western South Dakota as a slight shift in the storm track could bring heavier snow to the area, or it could result in lighter snow.
Be sure to download the KOTA weather app, which is free in all app stores. You will receive push notifications of the latest weather alerts, forecast videos and track live and future radar.
It will get much colder as temperatures will be in the 20s and 30s for Thanksgiving, 20s for Black Friday and highs will be in the 20s and 30s over the weekend. The Festival of Lights downtown Rapid City will be cold! Temperatures will be in the 20s, but wind chill values will be in the lower teens.
Next week, temperatures will return closer to average with dry conditions across the region with dry conditions.
Copyright 2023 KOTA. All rights reserved.