South Dakota Mines expands CAMP with three new teams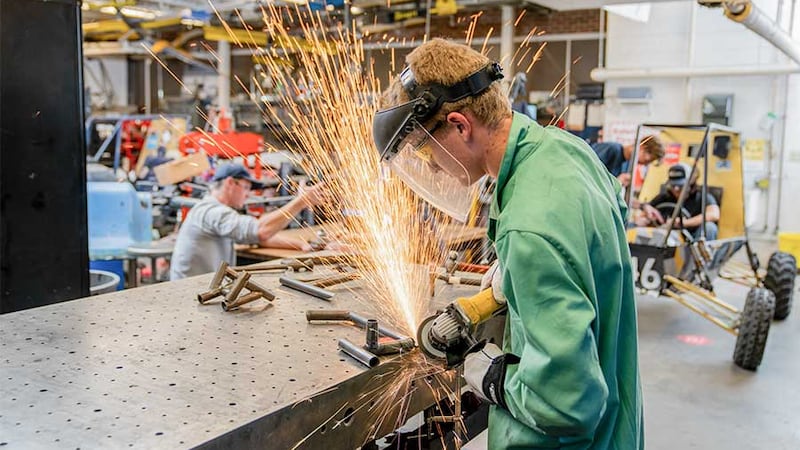 Updated: Apr. 29, 2023 at 8:00 AM MDT
RAPID CITY, S.D. (KOTA) - South Dakota Mines CAMP, a student-centered, hands-on engineering program, is adding three new teams: the Moonrockers, the Mines Association of Rocketeers, and the Unmanned Aerial Systems Team.
At South Dakota Mines, a co-curricular program known as CAMP brings together students, faculty, and industry leaders to collaborate on challenging projects. CAMP is a competitive program. The nearly 500 students in CAMP are better prepared for jobs outside of college through hands-on learning and team problem-solving. CAMP currently remembers 14 groups for complete that offer understudies inside and out experience through a large number of university rivalries.
"These three new teams allow more opportunities for CAMP students to find a project and community on campus to build their skills outside of the classroom," says Amy Hasvold, CAMP director. "Through these new-to-CAMP teams, we are excited to expand the experience our students are gaining in electrical engineering, computer science, aerospace, and mining as well as interpersonally in leadership, teamwork, and communication."
Moonrockers:
The Moonrockers team is a multidisciplinary group that participates in space-related robotics competitions. For the past several years, the team has competed in the NASA Robotic Mining Competition at the Kennedy Space Center. Teams must create a robot that can traverse the challenging lunar terrain, mining icy regolith, and transport it to a collection hopper in this competition. Vehicle development, student professional development, teamwork, and K-12 outreach are some of the additional activities. The current year's competition is May 22-26 at the College of Alabama in Tuscaloosa.
"Joining CAMP is a great opportunity for growth for the Moonrockers organization," says Moonrockers President Mathew Clutter. "CAMP will allow the Moonrockers to make stronger connections within the school and community, provide additional networking opportunities for our members and give our team access to additional resources to execute and manufacture our designs for competition. In addition, joining CAMP will provide additional students with valuable extracurricular experience working on a design team, to develop their interpersonal skills, and offer project experience, especially for those interested in a career in the aerospace field. The Moonrockers team is excited to join the CAMP organization."
Mines Association of Rocketeers (MARS):
The MARS team builds rockets. Mines MARS will be competing in the Spaceport America Cup, the world's largest Intercollegiate Rocket Engineering Competition, as part of a senior design team project in the mechanical engineering department. The competition happens from June 19-24 in Las Cruces, N.M. at the Spaceport America and hosts more than 140 groups from around the world. Collegiate teams compete at the Spaceport America Cup to create sounding rockets in various categories based on fuel type and altitude. With a target altitude of 10,000 feet, the Mines team will compete in the Commercial Off the Shelf solid rocket propellant division.
"Joining CAMP gives us access to funding and opportunities that we wouldn't have had access to otherwise," says MARS President Ben Kepley. "Being able to label ourselves as a CAMP team also helps draw in students that are looking for a collaborative engineering environment."
Unmanned Aerial Systems (UAS):
The UAS team designs aerial robots and is headed for the Student Unmanned Aerial Systems Competition in Maryland from June 20-22, 2023. The team works to contribute to the aerial robotics community while developing the technical and professional skill sets of its members.
"The Drone Team, a.k.a. UAS, is happy to join CAMP," says Dan Rederth, Ph.D., UAS advisor. "The team will benefit from the additional experience and resources of CAMP. Our members are excited to network with other teams to share knowledge and get more exposure on campus and in the community."
Copyright 2023 KOTA. All rights reserved.