GRAPHIC: 'I am going to die': Body camera footage released in woman's in-custody death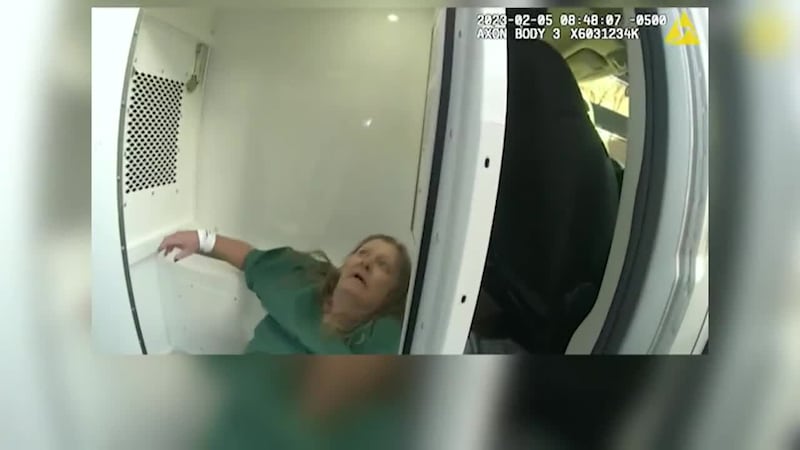 Published: Feb. 27, 2023 at 5:47 AM MST
KNOXVILLE, Tenn. (WVLT/Gray News) - The Knoxville Police Department released footage Thursday of several officers' interaction with Lisa Edwards, the 60-year-old woman who died in custody.
Previous coverage: DA: Woman in KPD custody died of stroke, no charges to be filed
Police officials said that the four officers involved are still on administrative leave, as an internal investigation is still ongoing. That investigation will determine whether the officers violated police policy, according to communications manager Scott Erland.
Edwards was taken into custody for refusing to leave Fort Sanders Regional Medical Center. She had come to the medical center the day before, complaining of abdominal pain and being diagnosed with constipation at Blount Memorial Hospital. After spending the night at the medical center, she was discharged around 7 a.m. on Feb. 5.
GRAPHIC WARNING: Videos included in this story may contain disturbing content.
After she refused to leave, hospital security called police to have her evicted from the property. The responding officer decided to take her into custody after speaking with her. He, along with several other officers, then tried to put her into a police wagon, but decided it was too high off the ground for Edwards, who was in a wheelchair, to get into.
From there, the officers called in a patrol car, which they loaded Edwards into. On the way to a detention center, the officer in the patrol car responded to a reckless driver. While he was stopped, he noticed that Edwards had become unresponsive, and an ambulance took her back to Fort Sanders. From there, Edwards was placed on life support before she died.
An investigation by the DA's office found that Edwards died of a stroke, clearing the officers of any criminal charges.
That DA investigation also found that Edward had been having multiple health issues leading up to her interaction with the police, including a previous stroke.
The video begins by showing an officer respond to Fort Sanders Regional Medical Center. He speaks to Edwards, who was refusing to leave the hospital because she claimed she had shattered her ankle.
He calls a police wagon to transport her to jail after asking if Edwards has someplace to go. Several officers then try to move her into the wagon, but she falls multiple times and said she is unable to get into the wagon, which sits high off the ground.
At one point, an officer is heard telling Edwards "now you're starting to piss me off," calling her "dead weight."
Also during the interaction, Edwards claims she has breathing issues and repeatedly asks for an inhaler, which officers claim she does not have. At one point, an officer digs in Edwards' purse, presumably to look for her inhaler, pulls out a pack of cigarettes and asks Edwards ,"Do you want a cigarette?"
Throughout this entire interaction, officers are shown trying to lift her into the wagon, but she repeatedly falls. The officers discuss this throughout the video, saying she's acting.
"It's all an act," one officer says to another.
"We all know that s---," that officer responds. "But unfortunately, if she goes over and can't breathe-"
"That act is going to turn into a problem," a third officer finishes.
As Edwards lies on the ground outside the wagon, she is heard telling the officers "I am going to die" and "I am going to have a stroke."
While Edwards is on the ground, the officer who drives the wagon is heard having a discussion with another officer, saying that Edwards will not fit in the wagon and that could have health affects.
"She's saying she can't breathe. If she falls over either way and she can't breathe," he said. "If she dies, that's on me. I'm not willing to take that risk."
Once the cruiser arrives, the officers are shown dragging Edwards into the back seat, failing to sit her up. When she asks to be sat up, an officer tells her, "Shut up." Directly after that, an officer mentions sitting her up in the back of the cruiser, but does not do so. Instead, the video captures the officers passing around a can of Lysol to spray on themselves.
After the interaction at the hospital, the footage switches from body camera to a rear-facing camera showing the back seat of the cruiser.
Inside the cruiser, before it leaves, Edwards is heard laying on the back seat saying "I can't breathe," "they are going to kill me" and asking to be sat up. The video also captures Edward's labored breathing. This is while the officers are speaking outside the cruiser, passing around the Lysol.
Eventually, an officer does help Edwards sit up, but directly before, other officers are heard laughing.
On the way to the detention center, an officer is heard asking Edward's "Are you OK?" Her response is unintelligible. At this point, Edwards has fallen down again and repeatedly asks to be sat up.
Edwards eventually slips from view, and the officer asks multiple times "Are you good?" and "Are you OK?" Edwards doesn't respond.
Shortly after, the officer pulls onto the shoulder of the interstate he is driving on and opens the back door of the cruiser. He asks Edwards "Can you get up?" before shouting to the officers in the wagon, who were following him, "She's not responding." He then tells Edwards to sit up again, but she is not conscious.
"I don't know if she's faking it or what, but she's not answering," he is heard saying as he lifts Edwards' head by the hair.
That is where police footage ends.
Copyright 2023 WVLT via Gray Media Group, Inc. All rights reserved.