South Dakota Mines hosts wellness fair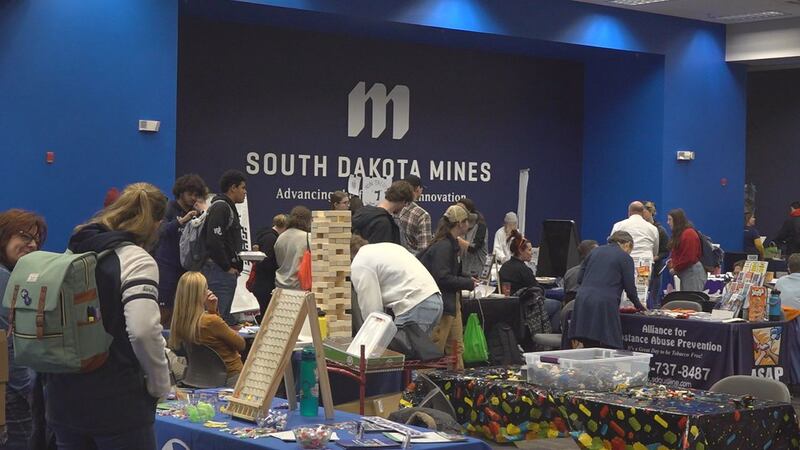 Published: Feb. 16, 2023 at 7:38 PM MST
RAPID CITY, S.D. (KEVN) - The South Dakota School of Mines held their annual wellness fair Thursday, with their doors were open to the public as well as the student body.
The Surbeck Hall was buzzing with activity as students sought information about how to promote their general wellness. While many people think of wellness in terms of health, the fair covers more than just physical fitness.
"I look at it as a lot of life skill things that we're providing, you know, filling in the gap. Maybe they haven't had a conversation about budgeting. Well, we want to fill in the gaps for that or maybe there's occupational things they haven't talked about. Well we want to fill in the gaps for that, or social and emotional wellness," said Chelsea Groseclose, a counselor for South Dakota Mines.
A main focus of the fair is on what they call the wellness wheel. That includes financial stability as well as spiritual fulfillment and this can be as simple as playing with the animals brought in by the Humane Society.
"We brought a dog and a cat and a couple rabbits because animals are really important to your mental health, your well being. So we thought this would be a good fit and they invited us which is awesome. So we're really happy to partner with them and come up here," said Jeff Steinley of the Black Hills Humane Society.
This event also had more practical advice to offer as well with many booths being dedicated to financial stability and offering advice such as how to start a 401k or making sound investment decisions.
"One thing, you know each student is different. So we can't categorize them into the same bucket, but when I was a college student I didn't know much about financial literacy so if I had the opportunity to talk to one of these financial institutions that are here today to learn about how to save money or how to start a 401k or a Roth IRA or something like that, it would be extremely helpful," said Gray Hughes, an active member of the wellness community.
The school says they plan to continue this event annually.
Copyright 2023 KEVN. All rights reserved.