Mitchell Tech students reveal custom Sturgis motorcycle
Published: Jan. 17, 2023 at 11:23 AM MST
MITCHELL, S.D. (KOTA) - For months this rebuilt motorcycle has been a passion project for students, faculty, staff, and supporters of Mitchell Technical College.
Since late September, the program's six second-year students, along with representatives of Helping with Horsepower, a Mitchell-area nonprofit providing opportunities for purpose, wellbeing, and growth through projects such as bike rebuilds, worked tirelessly to tear down and rebuild the 2018 Harley-Davidson Road Glide for the City of Sturgis. The finished bike is scheduled to go up for bids on an elite Mecum Auction in Las Vegas, Nev., Jan. 24-28.
In just over three months, the students "got to be involved all the way from tearing the bike down, building some custom stuff, and putting it back together," says Power Sports Program Director Chris Degen. From the very beginning, it was a team effort.
"Everyone kind of had their own … design ideas," Degen recalled. "We sat around and figured out color schemes and what we wanted the bike to look like and what we were going for," then transformed the touring-style Road Glide into a "race-like bagger."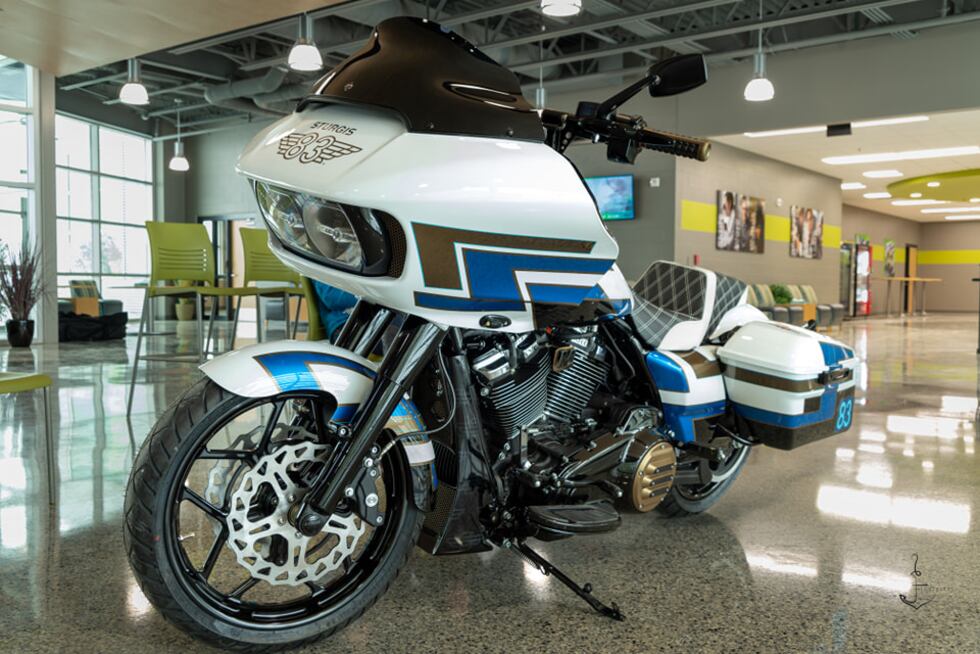 "There are a lot of (subtle) custom parts that the students got to add to the bike to commemorate the 83rd Sturgis Motorcycle Rally, and to honor the involvement of Mitchell Tech, Helping with Horsepower, and the project's many corporate sponsors," Degen said, adding that the students were able to use some of the skills they're learning in their welding class on the project.
Although the turnaround on the project was quick for such an expansive project, Klock said the process was "beautiful."
The bike departed Mitchell Monday afternoon, with another unveiling pit stop scheduled for Sturgis on Tuesday at 4 p.m. From there, the bike will be Vegas-bound. The final day of the bike's time at auction will be televised Sat., Jan. 28 at mecum.com/tv-times. The winner of the auction will purchase the custom motorcycle, an autographed concept drawing from designer Tex McDorman and a VIP package to the 83rd Sturgis Motorcycle Rally, to be held this August in the Black Hills of South Dakota.
Copyright 2023 KOTA. All rights reserved.